LOVE OUR BEANS?
We do too, and we're pretty passionate about those precious little nuggets, but even more than that… we're passionate about the people we do business with. 
Being small business owners ourself, we believe in the basics: great service, terrific product, a community vibe and just doing business right.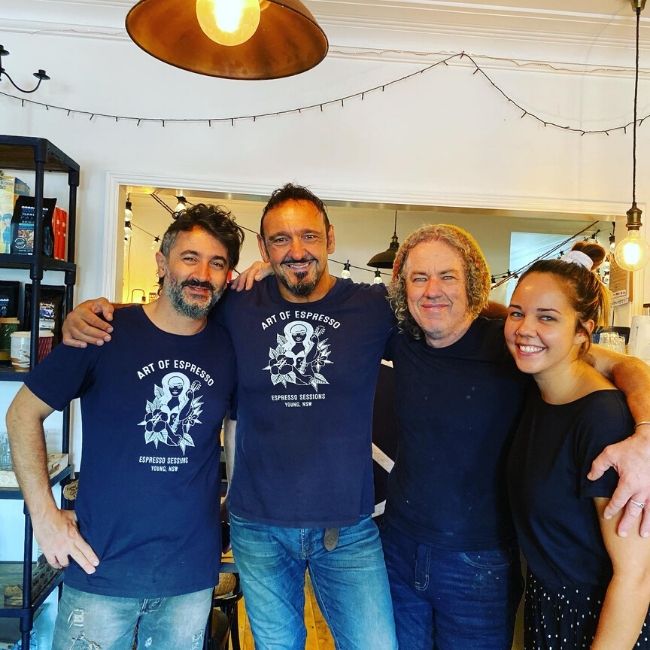 Happy Art of Espresso customers
L-R: Mario Fraietta from Howl and Moan Records Byron Bay, Adrian Capra, Brett & Lauren Paul from Revolution, Como, Sydney
Collapsible content
Read more

Adrian has established and consolidated Direct Trade relations
with farmers in Australia, India, Vanuatu, Colombia, Guatemala and Indonesia, encompassing our philosophy of peace and respect, two values that are dear to our heart and the founding values of our Human Beans for Peace Initiative.

By purchasing our beans for your own business, you are also buying in to our philosophy, best practices, ethos, not to mention some pretty damn good coffee!

We would love to hear about your business/cafe. Let us help you with our unbeatable knowledge, service and backup support… all at competitive prices.

Art of Espresso® caters for all your coffee needs including coffee, training, coffee machines, grinders, barista equipment and much more.
Meet the team...
Adrian Capra

(Aquarius)

CO-FOUNDER ART OF ESPREESSO & ROAST MASTER.

-

A Waylon Jennings tragic with a heavy feel for the blues. Music on vinyl is the only option!

-

FAVE COFFEE:

Caffe Grande / Small Double Shot Flat White with 1 Sugar.

-

CONTACT:

0476 153 114

02 6382 1151

Gabrielle Capra

(Gemini)

CO-FOUNDER ART OF ESPRESSO & BEAN QUEEN.

-

Part time domestic engineer & chief financial officer. This gorgeous mama is the behind-the-scenes marketing genius. Loved by all.

-

FAVE COFFEE:

Blues Blend / Almond Latte

-

CONTACT:

02 6382 1151

Elouise (Lou) Curry

(Pisces)

WHOLESALE GENERAL MANAGER / BARISTA TRAINER.

-

Our sweet soul sister who has an unrivalled enthusiasm with energy to burn. The team captain who can dance & loves any opportunity for a party.

-

FAVE COFFEE:

Colombian Popayan Reserve / Long Black

-

Contact:

0476 153 114

02 6382 1151